+ info

The Hug@ree experience encompasses two distinct moments. In an outdoor space, a tree – instrumented with conductive wires ergonomically distributed around its trunk forming a capacitive sensor – detects participant's hugs. A microcontroler attached to the wires triggers a hug when most of the sensors detect the participants' contact, sending a signal through a wireless radio transmitter to the indoor installation space. While a camera continually records the tree outside, custom software captures and keeps the last few seconds of video. When a hug trigger reaches the wireless radio receiver, the software saves the video and sends it to an interactive tangible projection. Then, participants place the video loop of their own hug on the screen tree, becoming leaves of a collective experience in a videoloop hugs gallery.
A portable version of Hug@ree was born from the need to present Hug@ree in a limited space and when there's no trees around, such as certain parts of cities or conference demos. It does keep the *real tree* factor, only in a different scale and body contact.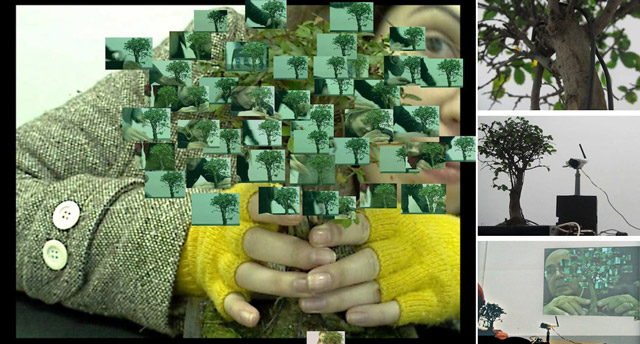 Online, participants will be able to upload a photo of themselves, but their hug will only be made part of the world when a participant hugs a tree for real.
Multiple Hug@ree instances around the world collect tree hugs that are uploaded to an online platform, composing a global shared embrace of nature. The gallery of hugging trees serves to register users in the community to motivate active participation, and invite other participants to hug the tree, naturally expanding the ARTiVIS users database.

---
Trees have an enormous power, but they are also vulnerable to human action. When hugged in public, they can become a powerful symbol for environmental activism, a reminder about our responsibility towards nature – in the present and for the future.

Hug@ree is part of ARTiVIS » Arts, Real-Time Video and Interactivity for Sustainability, an exploratory research at the intersection of Art, Science and Technology. The project proposes to investigate innovative concepts and design methods regarding the use of real-time video as raw material for artistic exploration on environmental causes.
Can art foster awareness and respect for nature? Regarding the impact and the potential of art and technology on society and the environment, the idea is to inspire change in individual lifestyle. From our interviews of local populations on forest fire issues, observation of participants and tests during the installation experiences, and their feedback, we infer that these interactions contribute to a feeling of belonging, providing contact with nature and strengthening the relationship with the forest, and also leading to local communities awareness. We believe that it will also contribute for further empowerment – ultimately, for a more sustainable environment.


CONCEPT FRAMEWORK
& DEVELOPMENT

References
BUNTING, M. 2009. Rethink — Contemporary Art & Climate Change exhibition, guardian.co.uk
GRADZIK, A., SZOSTALOIN, W. 2009. Treehugger Project
PRASCHAK, D. 2010. oneHug, Hochschule Darmstadt, Germany
2010. Talking Tree, Collab between EOS Magazine and Happiness Brussels | Making of »

---
Technical specifications
Arduino Playground, Capacitive sensing library
Arduino: Forum, Arduino as capacitive sensor
---
Sprint AZ Blog posts
Abraçaum@rvore » Sprint AZ [Dia 0] [Dia 1] [Dia 2]
Saberes & sabores do Maçal do Chão | Sprint AZ: 1 finalFeliz em 2 videos e 3′- | Sprint Project report, our adventures developing Hug@ree »